Beautiful photo design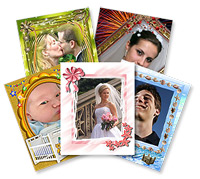 Do you want to decorate your photos beautifully?
Create a wedding, comic or any other colorful photo collage?
Now instantly, in a few mouse clicks, you will get a beautiful photo collage on the site FOTO-Mixer.
On our Internet resource FOTO-Mixer You yourself become the author of an exciting procedure for creating a photo collage, and on-line.
Substitute photos, twist, twist, achieving the maximum result of your creative work. Your photos become bright, spectacular and will easily fit into any photo album.
From now on, there is no need to overpay wedding photographers for creating wedding photo collages. Now you can do everything yourself, completely free of charge, by showing creative ingenuity on the website FOTO-Mixer. Any photo collages, wedding invitations, funny photo jokes and a lot of interesting things for entertainment and practical jokes.
From old to new photos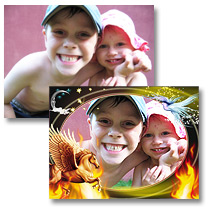 FOTO-Mixer is a professional Internet resource designed for editing and convenient work with photos, as well as for creating a variety of photo collages in on-line mode.
The use of the Internet resource FOTO-Mixer is focused on an ordinary user and makes it possible to create a masterpiece of photo art in a few minutes.
The FOTO-Mixer database contains a lot of templates and blanks, as well as a set of necessary tools with which creating a collage becomes an exciting procedure.
On the pages of the special program FOTO-Mixer, you will be able to create large photo collages, insert photos into colorful frames and vignettes, substitute faces in comic photo pictures, add inscriptions and texts to photos.
Don't forget to make some fridge magnets from the collage you created. You can also make magnets of any size from your photos.
Create a collage in a few steps
An accessible and easy menu FOTO-Mixer will help you create an interesting and individual photo collage in just 5 steps on-line.
Step 1. Choose a template from any section.
Step 2. Upload your own photo.
Step 3. This is the process of creating a collage directly. Here you can move the uploaded photo up, down, right, left, zoom in and out, scroll clockwise and counterclockwise, as well as adjust (if necessary) brightness, contrast.
Step 4. The ability to add text or inscriptions on any part of the photo collage.
Step 5. Getting a finished photo collage.
Step 6. Use shop FOTO-Mixer to print your collages on fridge magnets.
Everything is very simple and accessible to any user FOTO-Mixer.