Colorful decorations for children's photos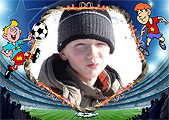 The most beloved and expensive photos are of course children's. They occupy a special place in any home photo collection. Children's photos always make you smile, set you up in a positive way and cheer you up.
FOTO-Mixer will be happy to take part in the design of children's themed photos.
Along with the image of the child, your favorite cartoon characters, fairy-tale characters and many beautiful designs selected especially for children's collages will appear in the photo.
The baby was born, laughs, cries, plays, first steps, with mom and dad, on vacation, with friends - all these and many other life moments will easily and naturally decorate FOTO-Mixer. You only need to choose the design you like and upload a photo from your computer. Then apply your imagination and creative impulse, creating a beautiful children's photo collage.
Finished works can be signed without resorting to the services of photo salons.
Such photos will become all the more beloved in the home photo album. Save happy childhood moments for the joy of your kids together with FOTO-Mixer. Be sure to check out all the galleries!
Children's frames